Whosayna's Cutlet.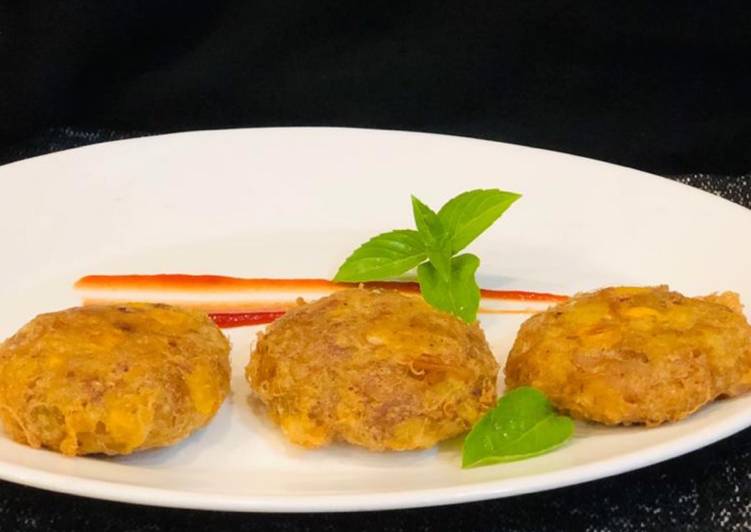 You can cook Whosayna's Cutlet using 14 ingredients and 7 steps. Here is how you achieve it.
Ingredients of Whosayna's Cutlet
It's 1/2 kg of Steak.
It's 2 cups of Mashed potatoes (leftover of croquettes).
It's 1 cup of Noodles (leftover chopsuey noodles).
You need 3 of Green Chillies (chopped).
Prepare 1/2 bunch of Coriander leaves (chopped).
Prepare 1 of Onion (chopped).
It's 1 tsp of Chilli Powder.
You need 1/4 tsp of Turmeric Powder.
Prepare As per taste of Salt.
It's 1 tsp of Garam Masala.
You need 1 of Lemon Juice.
Prepare 1 tbsp of Ginger Garlic Paste.
It's 1/2 cup of Sweet Corns.
Prepare 1/4 of Capsicum (chopped).
Whosayna's Cutlet instructions
Boil steak in chilli powder, turmeric powder, salt, garam masala, lemon juice, ginger garlic paste, dry it up when tender..
Shredd or mince the boiled steak in chopper, add green chillies, sweetcorns, onions and coriander leaves..
Boil water and dip in chopsuey and deep fried noodles in it and strain it, add noodles in steak mixture..
Add leftover mashed potatoes in the mixture too..
Mould in cutlet shapes, shallow fry dipping each in beaten eggs..
NB: Put salt and little chilli powder in beaten eggs..
It's ready to serve..