Curried red lentil and potato soup. A hearty, comforting soup with tons of plant-based protein and fiber. The base for this simple curry soup is onion, garlic, ginger, carrots, and potatoes. How To Make Curry Sweet Potato + Red Lentil Soup.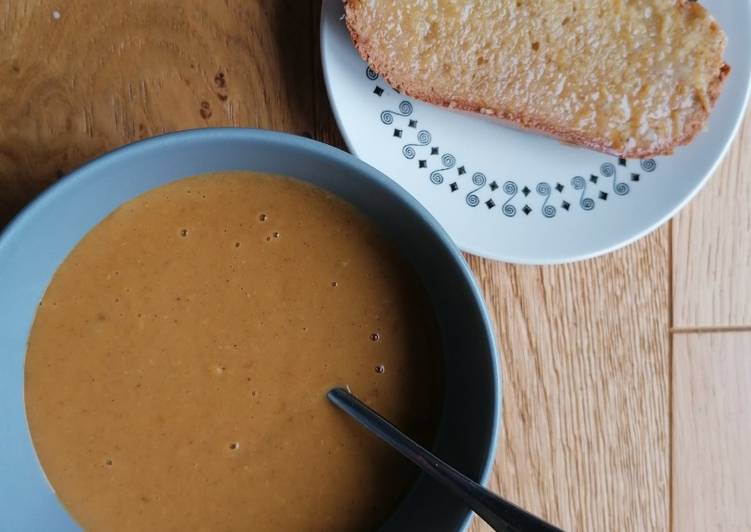 If you're like me and are ready to be converted, this red lentil sweet potato stew is a darn good place to start. Though it's a bit of a hot mess, it's been one of our favorite recipes this fall. The soup creates its own fragrant broth with the help of spices, tomato paste, and the aforementioned coconut milk. You can have Curried red lentil and potato soup using 19 ingredients and 6 steps. Here is how you achieve it.
Ingredients of Curried red lentil and potato soup
It's 1 tbsp of olive oil or coconut oil.
You need 1 of onion, finely chopped.
Prepare 2 cloves of garlic, finely chopped.
Prepare 1 inch of fresh ginger, finely chopped or frozen.
Prepare 1 tbsp of garam masala.
It's 1 of heaped tsp cinnamon.
Prepare 1 tsp of cumin.
You need 200 ml of tinned coconut milk.
You need 500 ml of stock – I used some chicken stock that needed using from the freezer but you could use vegetable stock here instead.
You need 1 of potato, peeled and chopped into chunks.
It's 1 of carrot, peeled and finely chopped.
It's 1 cup of red lentils.
Prepare 1 tbsp of tomato puree.
It's 1 tsp of mango chutney.
Prepare 1 of heaped tbsp dessicated coconut (unsweetened).
You need Squeeze of lemon.
Prepare 1 tbsp of natural yoghurt – I used thick greek yoghurt. (You could leave this out if you don't have any – it will just be a little less rich and creamy.).
Prepare of Salt.
You need of Chilli flakes.
The red lentils, which cook more Cubes of sweet potato hold their shape, and kale adds some welcome form and texture. As for the flavors, curry powder, ginger, garlic and chile give it. The addition of the red lentils also helps to reinforce the beautiful orange color of this soup, but in addition they are nice because they are really quick cooking and kind of start to fall apart once they are added, which is perfect for the texture once you blend it together. This soup has complex Thai-inspired flavor but comes together quickly with red curry paste.
Curried red lentil and potato soup step by step
Heat the oil in a large saucepan and add the onion, garlic and ginger. Cook for a few minutes until starting to soften..
Add the spices and mix with the onion. Now add the potato and carrot and coat with the spices. Add a little stock (2-3 tbsps) to loosen the spices..
Add the lentils and stir well. Add the coconut milk and 1/4 of the stock and stir well. Bring to the boil and reduce to a simmer. Add the tomato puree, dessicated coconut and mango chutney and stir well..
Cook for 5 minutes with the lid on. Now add the rest of the stock, bring to the boil and reduce to a simmer. Cook with the lid on for 25 minutes or until the veg and lentils are lovely and soft. Stir regularly so that the lentils don't stick to the bottom of the pan..
Use a hand blender to blend the soup until smooth (you can serve the soup as it is before blending which will give you more of a thin dahl)..
Add a good squeeze of lemon juice, yoghurt and seasoning and simmer for a few more minutes. Serve in warm bowls with some lovely fresh chunky bread – we had ours with porridge oat bread while it was still warm from the bread maker… Heaven!.
I no longer bother making my own red curry paste after discovering the Maesri line of curry pastes at a local Red lentils cook much faster than brown or green and at about the same rate as the sweet potatoes. Delicious and satisfying, this thick red lentil and sweet potato soup recipe can be cooked with or without a pressure cooker. Add the curry powder and stir until combined. Dump in the sweet potatoes, lentils, remaining coconut milk, water, and salt/pepper. Add the water, coconut milk, red lentils, and sweet potato.